I have no greater joy than to hear that my children are walking in the truth
Our purpose as a Children's Ministry is to partner with families to raise up a generation that loves God and displays that love by loving God, loving others, and inviting all people to do the same. Our desire is for the next generation to surpass our generation in faith, knowledge, righteousness, fruitfulness, zeal, and world evangelization.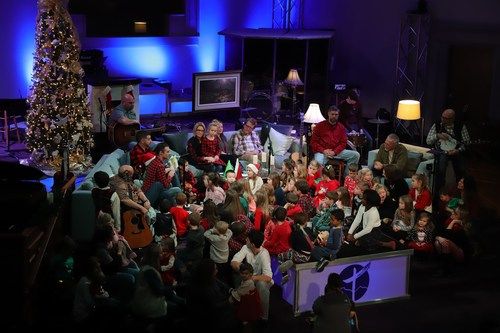 It's our first time! What do we do?
When you arrive on campus, trail guides and greeters are available at the Welcome Center to answer any questions and can guide you to the age appropriate area. We will walk you through the registration process where you'll receive a security tag for your child and a matching one for yourself for checkout. Your child will be taught by a background-checked and trained volunteer to ensure your child's experience is safe and enjoyable.
AMP stands for "All My Praise!" This ministry is available to children ages 4 years old through fifth grade. During our time together, we lift our voices, our hands and even our feet to give praise to our Savior. We also welcome one another, watch a preview video of our Bible story and lesson for the day, as well as pray together and take up an offering for our community. Following our worship time together, we break into smaller groups, based on the age of the children, to dive into our Bible lesson for the day. Our lessons come from The Gospel Project. The Gospel Project teaches the entire Bible, Genesis through Revelation and points every story back to Jesus.
We have a wonderful staff of volunteer leaders who love spending time with the little ones. Our nursery ages are birth through 2 years old.
Tots are our 2-3 year old bundles of energy and joy. They use the KidSpring curriculum which is Gospel-saturated, Biblically true, active, engaging and age appropriate for their developmental stage of life.
At Summit we believe our job is to equip the parents to disciple their children. We do this by surrounding parents and caregivers with love, support, accountability and prayer. Faithful brothers and sisters provide additional voices of truth for children and students, not to assume parental influence, but rather supplement and strengthen it.
Have a question about Compass Kids?
We'd love to hear from you. Fill out the form below to get started.